Hopefully you caught the Personal side of our year end review that I made last week- in a nutshell: lots of pics of our babes and how much they've grown!  Time now for the more "business" side of things!
Where to start!  Well…I think I am actually going to start at the end by just saying Whew! What a year!  I look back on our body of work and I am super proud, amazed, humbled…the list goes on...by our amazing clients that trust us, bring us into their families and lives and moments and allow us to be there.  To be their eyes, to be the deliverer of the memories, to be the keepers of their pasts and to create and capture moments that live on in their families and futures.  It's not a job I take lightly.  It's fun, but it's also serious business!  We keep the memories!  I am so grateful for each and every person we had the opportunity to work with this year.  In fact, my clients become our friends, some of my favorite people in the world- people Joe and I long to get to see more of and people we want to be more like.  YOU are a solid bunch.  So solid!  Thank you for trusting us this year!!!
Let's recap! Our year started off "slowly" as we had a newborn at home and lighter first quarter of the year.  There was somewhat of a "maternity" leave in there(if thats possible while also having a 2 year old)- especially since I had to recover from a c-section.  But- just 8 weeks later we were back to work and shooting our first wedding!  By the end of June, we shot 10 weddings.  This was a pretty great pace for us in the beginning, while Joe was still teaching and I was figuring out working with two littles.  It was a pretty great work pace when we decided to...do something a little crazy….like get a new studio…one that needed a complete remodel!
Now it may seem like we've been keeping it a secret, but the truth of the matter was that life was very crazy, I was working tons and now have 2 kids.  There just has been little time to talk about it with the timing of our fall crazy, but introducing to you our new studio: The Cottage!  I guess it was in early spring that the opportunity to have a new studio first developed.  Yes, it was something we had talked about before, but with our awesome home studio space, it was not a high priority.  That was, until we had a toddler AND a home studio.  Life with a toddler became very different than life with a quiet, sleeping baby- which was our previous experience.  Meetings started conflicting with loud dinner times and play times, so we were more open to the idea of moving work out of the house...right when the perfect location came out of nowhere!  We acquired our new studio mid spring, but multiple months of zoning meetings and an almost total remodel kept us from "moving in" until the end of August- which was when we started the craziest wedding run in our businesses history.  What started off as an "easy" start to our year suddenly turned into spending every spare moment working on our new location and trying to make more hours than there were in the day appear.  We outsourced some of the initial work- but much was done by Joe(thankfully the worlds most handy husband), yours truly(really I'm better at giving directions;)) and both of our parents.  We made too many trips to Lowe's with infant Shepherd asleep in the carrier and Sharpe helping us grab the latest items for the remodel- working late in a dark house because we had to do the electrical with the lights off, and bribing Sharpe with cartoons on the iPad while we finished up this or that at the property.  Here are some before pics!  Sorry they are only iPhone, but between the new baby, the manual labor and my real work, there wasn't an opportunity to take pro before shots of the very crusty inside!  I knew the bones were good as soon as I first stepped foot in the space, but there was A.Lot.To.Do.  The home had been sitting empty for 6 years.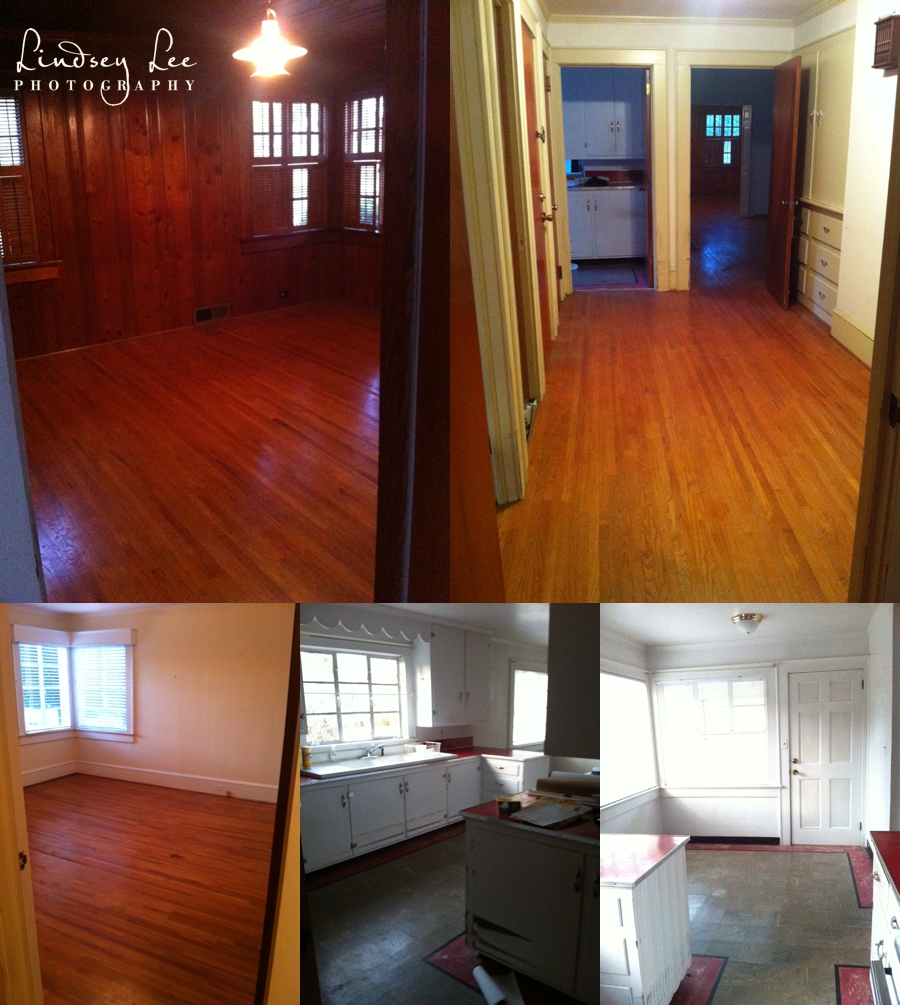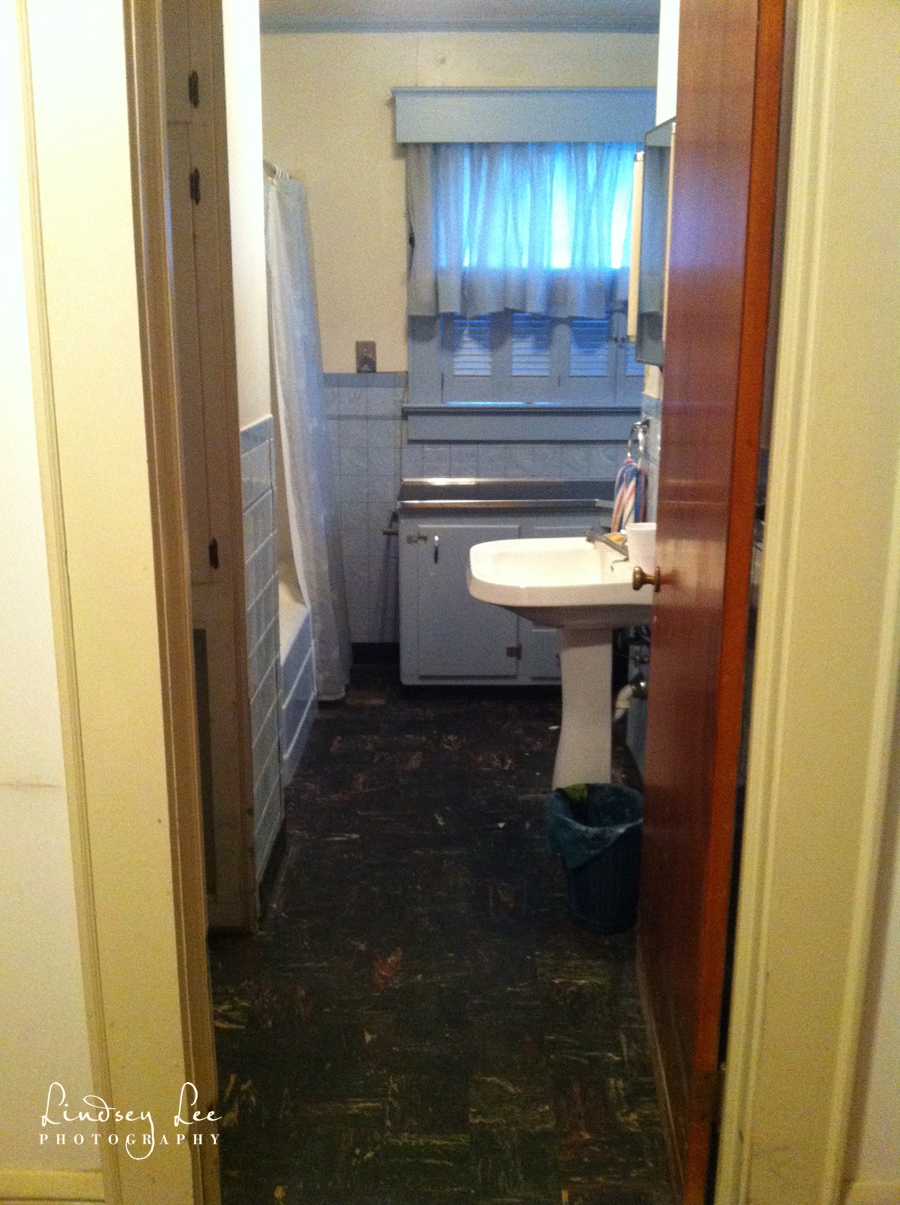 All this to say, we finally got the work done( I can still see all the stuff I still want to do) and I got my home office completely moved in and started "going" to work- this was right when the boys started school and we worked out a schedule for our sitters.  Another big thing that happened in this time was that when Joe finished up his school year, he moved full time to real estate.  That seems like forever ago at this point, but I am so proud of him and this move as well!  Shameless plug- if you are looking for someone awesome to help you with your real estate needs- please give him a call!  I do this photography thing full time, but he is "wedding day only" and full time in real estate.  He would love the opportunity to meet and work with you!
So, back to regularly scheduled programming... After a crazy summer of remodeling, sweating, designing and cleaning we officially opened The Cottage!!  We are so proud of it! Joe worked so hard to do much of what you see here!  I can't wait to see how this space morphs and develops as we grow and move forward in this business.  The Cottage is also accompanied by 3 acres, so it is perfect for shooting and it has already gotten so much use!  At first, and a little even still, I was very overwhelmed by the property itself and how much there is to do- so the inside of the property was priority #1 followed by the outside, which has come VERY far, but still has a ways to go with what I "dream" for it!  Updates to that coming along the way.  Enjoy a little Cottage Tour!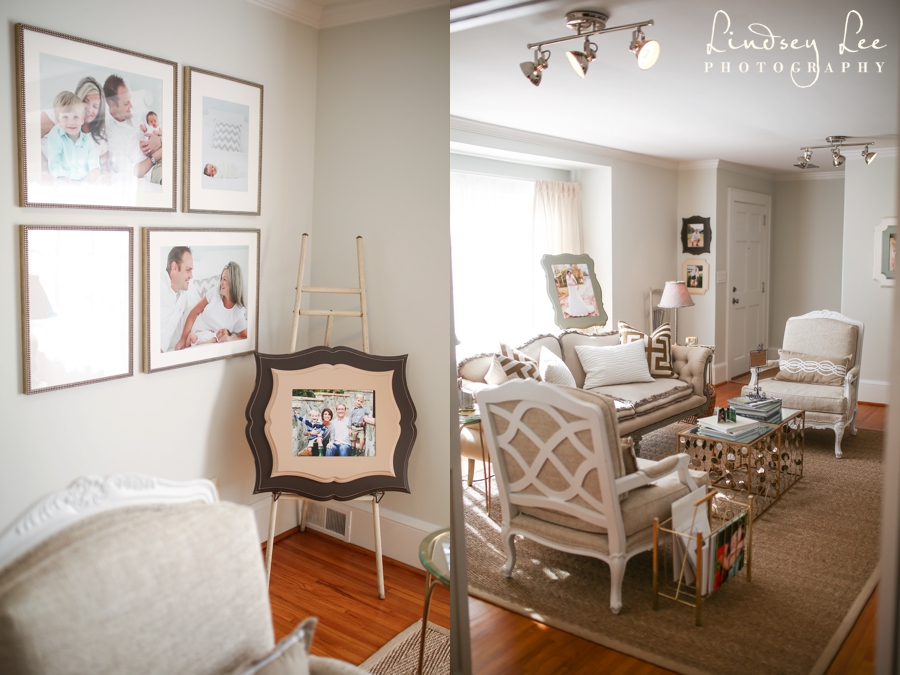 Our Consultation and Viewing Room!  Most of this stuff was in our home studio, but all this new wall space was much needed!  Love showing off our Organic Bloom frames and Custom Frame line!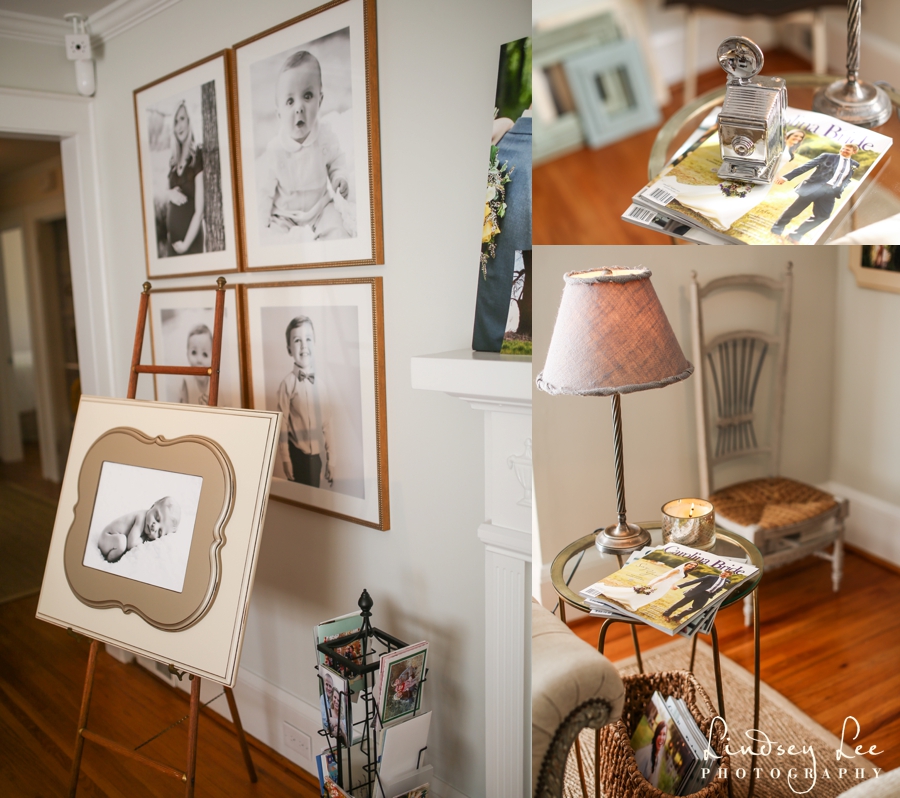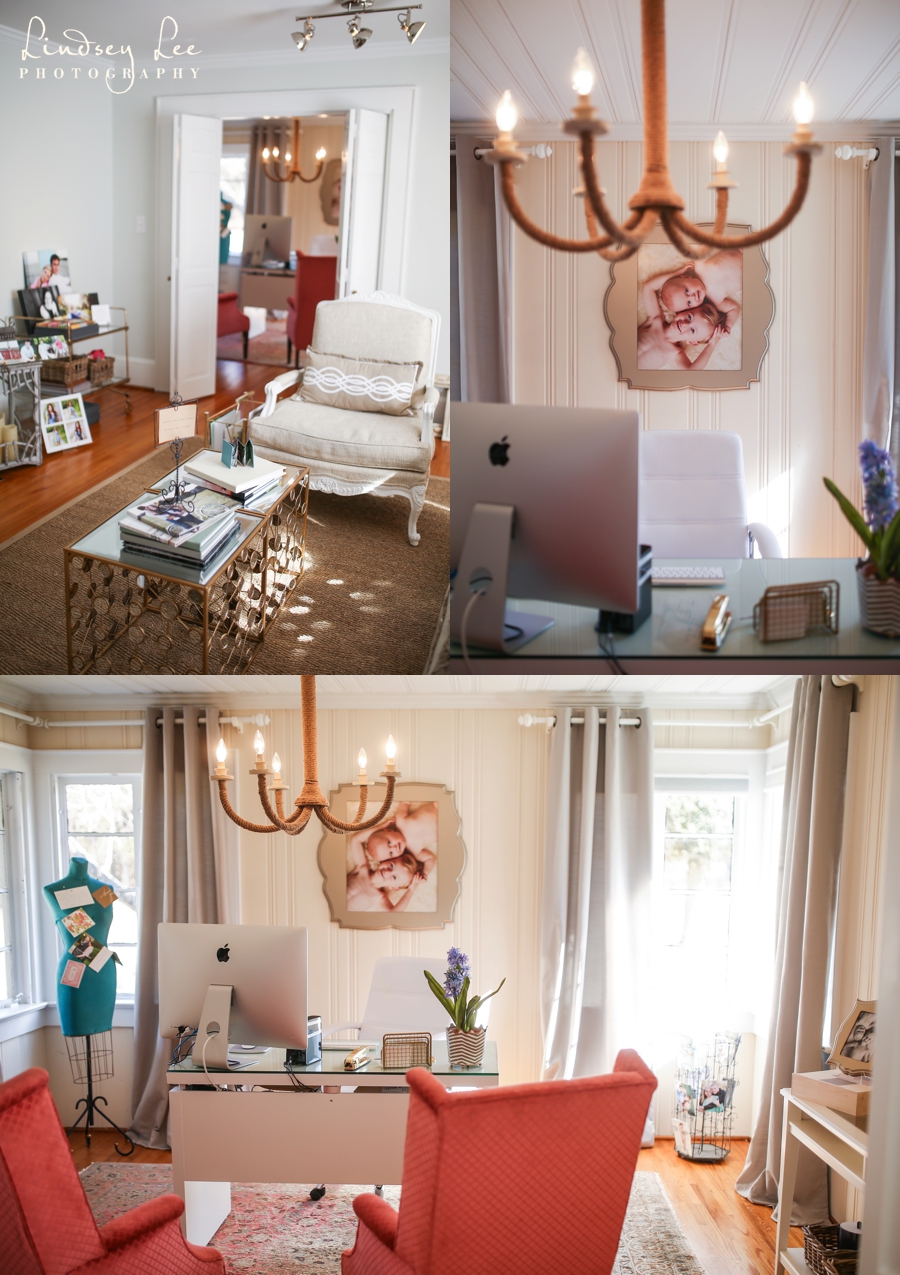 The "living room" looks into my office.  This place is my dream.  Bright and Airy (this room was the solid pine room in the before photos)- coming to work here makes me happy AND productive with no distractions! (no laundry or dishes calling my name in the other room!)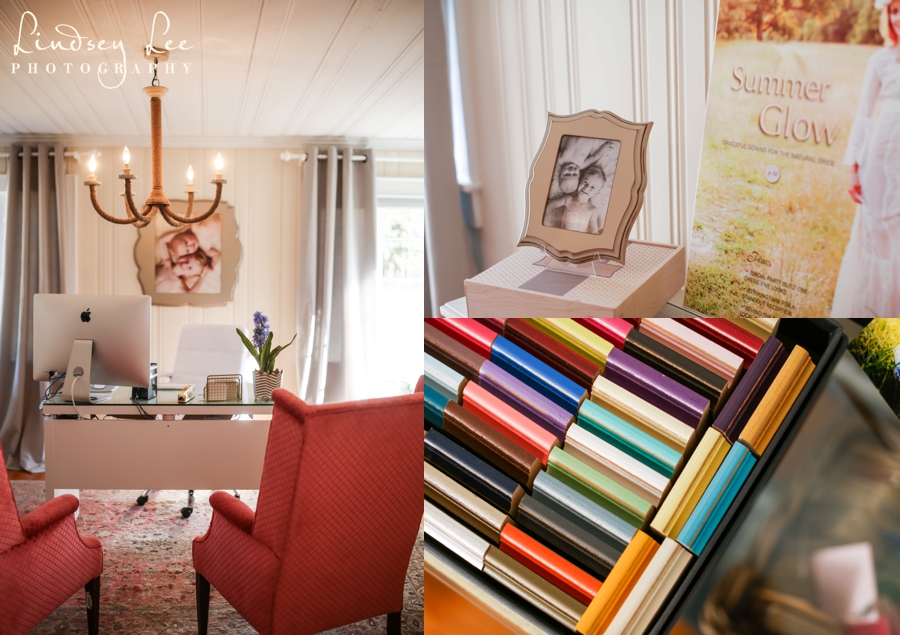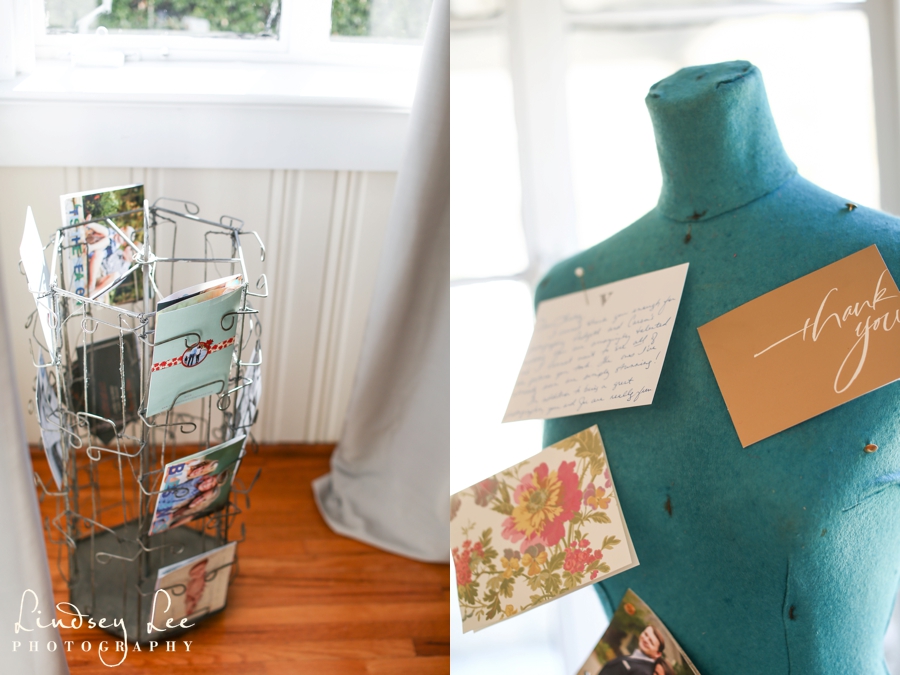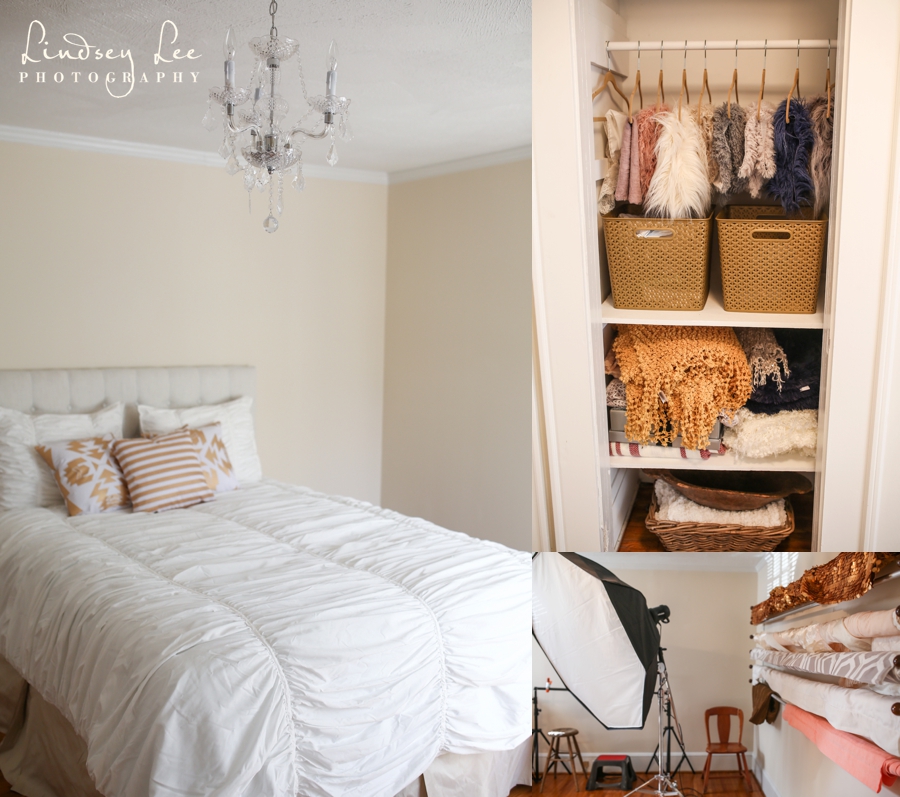 Our two shooting areas- one room for studio newborn work and one space for Boudoir (more about this to come as well!)  One of my favorite things about The Cottage is that there is storage EVERYWHERE.  Plenty of space for all of my props, backdrops, blankets, you name it!  Cabinets at every turn.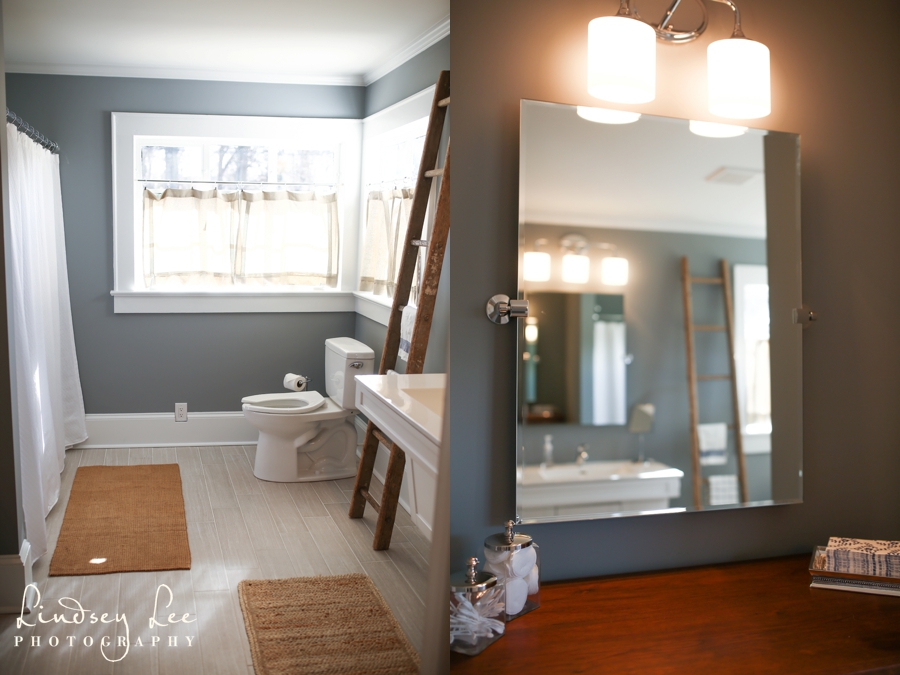 I know it's sorta off to show a photo of a bathroom, but this area had THE BIGGEST transformation.  Goodbye blue press on tile!  Love this space!  Perfect natural light for doing hair and makeup!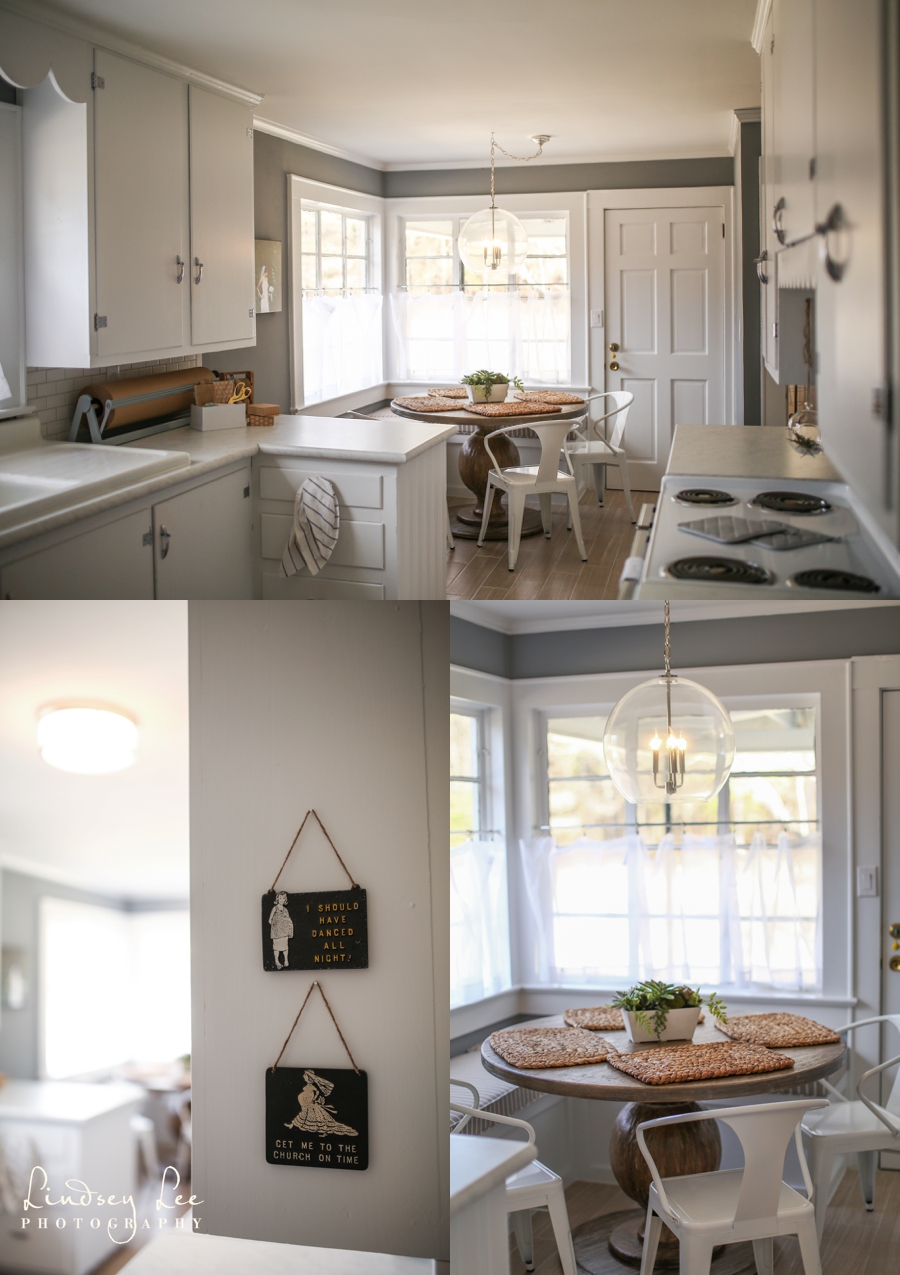 Now onto my MOST FAVORITE space in The Cottage (as far as non work space goes):  This adorable kitchen.  Yes, I know we don't live here, but I do make my microwaveable meals here:)  Love the banquet bench seats that Joe made.  When I first saw this little nook, I knew it was begging for window seats!  Thanks hubs for the great handiwork!  These little signs above came out of my Great Grandmothers house- and I love looking at them here.  She always had such a funny sense of humor(even at 90) that bordered on the inappropriate, and every time I walk by these signs I am reminded of the legacy ALL of the women in my life left before me.  They were strong, stubborn, determined, kind, loved, devoted, giving…I never want to forget them.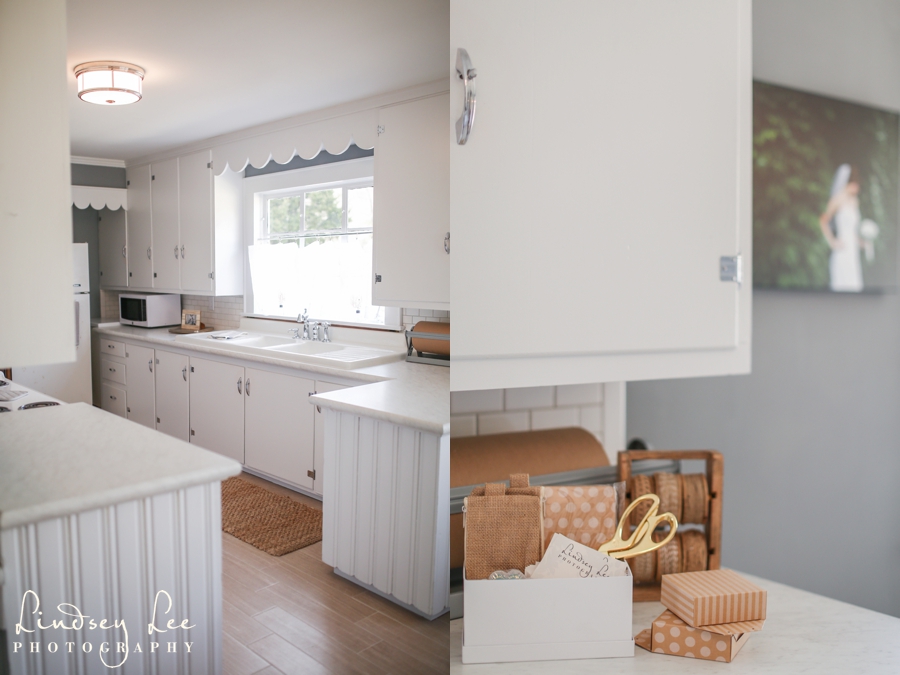 Yes, the previous counters were RED and the floor most likely asbestos, but what did remain was this original Farm Sink.  We re-designed everything around this beauty!  A good cleaning and it really looks like new!  We just painted the original cabinets and cleaned the original hardware (also looked like new under lots of coats of previous paint) and added the subway tile backsplash along with new countertops (which are "marble" laminate!).  Love my area for packing products and working on shipments (and look at ALLLL that cabinet space to hold all of my packing supplies!)
So, that was some pretty huge news and growth for our business this year!  It was unexpected in its timing, but just what we needed in this season.  My kids have stability and full run of our house and I have a place to meet clients, do work, shoot babies and boudoir and get major work done without distractions.
August came, and so did the place in time known as "Lindsey nearly lost her mind".  Love my work, but I think I was definitely a bit delusional to think I could handle the schedule I had planned for myself and still remain a sane person.  Granted, a lot of the over scheduling did happen mostly by "mistake" (aka, Yes, I have that day "open", but I really need to be editing the three weddings I have in right now and making 4 albums) and "time sucks" happen, too: things take longer than you expect, the kids got pink eye and the stomach bug, putting me two weeks behind because they couldn't go to school, weddings are out of town eating away work days with travel, it rains, we reschedule, babies come late, babies come early...so it was beyond crazy.  We did make it, but my clients definitely got my best while my family got cranky, overtired Lindsey.  Learning experiences were had all around, but shooting 16 weddings in 15 weeks was not my brightest decision making moment.  The weddings alone didn't make me crazy, it was all the other work I took on at the same time as well.  This is where I talked in my personal post that just because it is in my "capacity" (I like to think I am a pretty high functioning individual that DOES THRIVE on getting LOTS of things done) doesn't mean I am "available" to do so.  I hate to even say my work made me crazy, because when I am "working", I am totally IN IT.  I'm there mentally, doing my best, creating awesome memories, loving people I am with- it's when I get home late/miss the kids/miss family events/don't see Joe all day-for days/miss the kids school activities/sit for hours behind the computer/am away from home for 15 hours at a time/see my to do list never going down/get behind on house work/knowing I don't have a break for 3 months that I lose it- not when I am actually "working".  Thankfully there is so much grace in my life.  God is still teaching me and growing me, as a person, a mom, as a friend, and still as a business owner.  All of our weddings were beautiful and portrait and senior clients were amazing and I wouldn't trade a single one of them!  I can't imagine NOT being there for even ONE of the moments we witnessed this fall.  I just learned SO MUCH about scheduling for next year!  I'll be outlining that in the take aways:)
These weddings:)  This year we shot 27 weddings.  A little overly ambitious in hindsight in the same year we had a new baby, but we did it:)  Love all of these people. So much.  I love their stories, I love the way they love each other, I love the way they joined their lives in such personal ways.  So thankful they chose us capture the photos that they will celebrate their day by for the rest of their lives!  (many of these still to hit the blog- get excited:))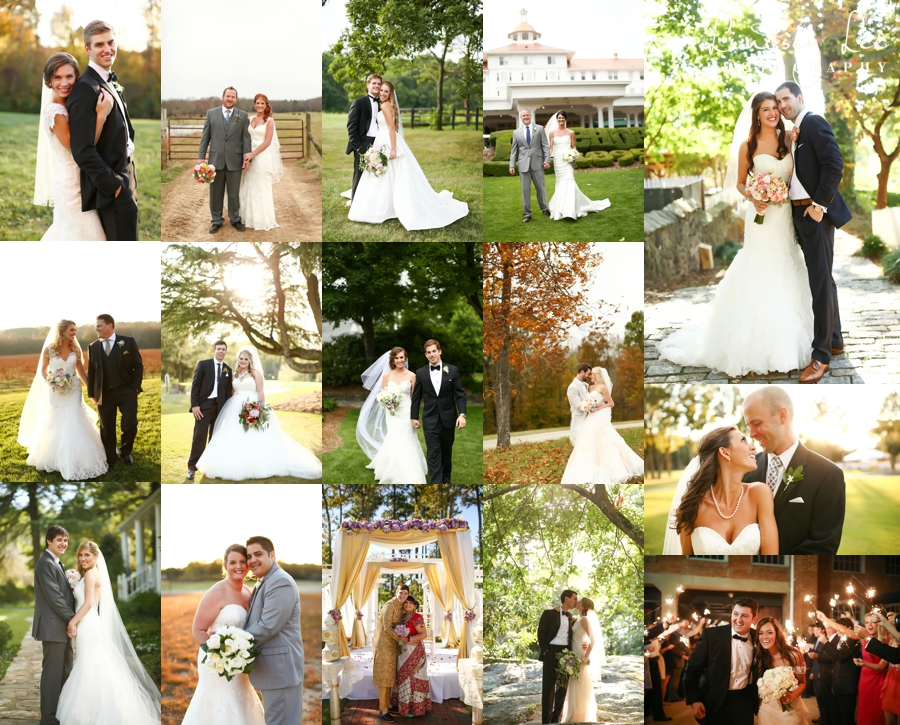 So, the takeaways from this year.
In a word: SCHEDULING.  I literally "FELL" into Christmas.  As in, I crossed the race finish line but fell down and crashed as soon as I touched the tape.  Legs wouldn't move, crying, sweating, in pain, regretting the race, thankful the race is over, never wanting to race again, why did I try to race to begin with.  How does this translate into something that I can fix and change moving forward?  Earlier Christmas deadlines.  I know it's January and it now seems so far away, but Christmas deadlines will be much earlier….and why that matters greatly is that it means EVERY THING ELSE in the business has to happen earlier, too.  Fall family sessions have to happen weeks earlier in the year, seniors have to be wrapped up before that, album orders must be submitted while there are still leaves on the trees and print orders can't be made last minute.  It's going to take discipline on everyones part to have this forward thinking, but I will be sane, and that will be something that benefits everyone!  Subscribing to my newsletter will be an important step for all of my portrait clients to learn about the cutoffs and deadlines that will 100% be set in stone.  Please don't miss important updates that will go out in these newsletters periodically throughout the year.  We don't spam, we give relevant info and some fun stuff, too!  Along with scheduling, there will be specific work days and specific ordering days and there are days that are for family.  Stops by The Cottage are by appointment only, but I am keeping strict office hours Tues/Wed/Thurs.  You can count on reaching me these days and this is when all portrait work(non-wedding) work will be scheduled.  I am very excited to create a schedule that keeps me rejuvenated and ready/excited for work.  I know in my schedule when I am home, and I know which days I am devoted to work all day and things will be scheduled accordingly.
Growing and sustaining are always at the top of every business owners mind.  Here are some things I want to work on/grow in 2015"
-Staying "on top" of things.  Hi, that's vague, but I want to not let myself get behind and am writing it down so I have to do it.  I have a very quick wedding turnaround, nearly half of that which is considered "industry standard", but I still push my deadlines to the limit.  This causes me dread.  I don't want to dread something I love so much!  Staying on top of my work leads me to a happy place:)
-Putting together a wedding guide to go out to my weddings clients.  I have already started working on a comprehensive guide for my brides and I can't wait to finish it and get it out there!
-Building my boudoir business.  This has been a part of my business for a while, yet I have never really talked about it.  I plan to roll out more of my boudoir work and hopefully build more of that side of my business.  I LOVE shooting these sessions and really want to do more of them at The Cottage.  Helping women to see the beauty in themselves makes my heart dance- and I need more of that!  In the meantime, please shoot me an email and ask for more info if this interests you.  My boudoir clients are real people, not models, and it makes having lots of work to show somewhat difficult in that privacy/anonymity is a top priority.  I respect that to the fullest.  Just know that I shoot these sessions, and if you want one, I can get you all the images/info you need to make that decision in private.
-Helping out my fellow weddings vendors.  I always try and give images when I can/remember the other wedding vendors- but shooting so many weddings I do lose track of who did what/where/when.  I want to stay more on top of this and be able to share images with other wedding vendors in a timely and fair manner.  I want the work I am alble to create with their help to be something that benefits their business as well.  I plan to set up systems to help me to do this without having to "Search" after each wedding.
- Revamping my Senior business!  In my new schedule there will be a cap on the number of seniors that I can take on because there are a limited number of work days in my life.  BUT, this means that each senior I shoot in 2015 is going to be amazing/out of the park/hair and makeup/styled to the max sessions!  Please get on the schedule early!!!  We have some super fun partnerships EXCLUSIVELY for my seniors- I can't wait to share more about this in the coming weeks!  A complete senior guide is already in the works, too!
-Newborns: I will also be capping the number of newborn sessions we take per month.  These sessions are the most time consuming(and understandably so!) of all the sessions I do.  Babies dance to the beat of their own drum, I am just there to work with that little one and create beautiful memories with what I am given.  Because of the unpredictability of babies moods and particular "due dates" (aka, no baby listens to their due date) I will only be able to take a limited number of newborns per month.  Please get in touch with me asap with your due date to see if your month still has availability.  Implementing our Baby's First Year Sessions was one of my highlights from 2014.  Getting to see my newborn clients through the rest of the Baby's First Year and creating products throughout and at the end of that year that document in such a tangible way how much Baby has grown and learned brings my heart so much JOY...and I know together we created something the parents could not do on their own.  It takes a lot of work and commitment to bring your baby and family in more than once per year for professional photos, but it is not a decision anyone regrets when they can look back on that year and see beautiful products of a time when life was "hard" but certainly beautiful and unforgettable.
- Getting back to sharing.  I truly enjoy helping others learn about photography.  With more availability in my schedule, I hope to 1- hold another beginner camera workshops and 2- have time to mentor new and upcoming professionals.
Things that are GONE in 2015:
- No more commercial work.  This has always been a "calendar filler" for me, but in 2015 there will be no more commercial work available.  No headshots, no shooting corporate of private "events", etc.  These things take away time from getting the work that makes my heart happy done.
- Being available 24/7 for emails, calls and texts.  I own a business...and the solid majority of that work will get done within business hours.  I am thankful to be so close with my clients that they feel comfortable reaching out to me at all different times, and I REALLY don't want that to stop, but I am not a slave to my phone or to my email.  Please expect the majority of phone calls emails and messages to be returned within business hours.  (This does not mean I am completely unavailable, it just means that rarely is there a "photo emergency".  If it CAN wait until my next work day, then it will.)
- Thinking I can do it ALL and fit it ALL in.  Ya'll.  I can't.  Let's clear the air about that right now.  I don't even want to try.  I need Jesus and Grace more than I need accolades and a busy schedule.
Ok, that was a lot.  THANK YOU THANK YOU THANK YOU  #1 for reading this ridiculously long post and #2 for supporting me so well in 2014.  My business continues to be 90% word of mouth, so I couldn't do this without YOU.  So many of you love me and my family so well.  It may have been years since we have worked together, or we may even never have, but I know my community of "believers" are out there and telling their friends newly engaged daughter about me, their coworker who just found out they are pregnant about me, their babysitter about my senior work...I don't do this alone and I don't think I do even for a second.  And to our family, who take my kids for over half the Saturdays of the year(granted they are really cute) so that we can travel the US and beyond doing something we love, YOU ARE THE BEST! I am one ridiculously blessed lady.