Getting so excited for our Santa Sessions this upcoming weekend! This is such a different take on the type of portraits I am known for(aka, I NEVER do anything "themed" and "kitschy") but it has become one of my very favorite events that we put on.   Each year I schedule a time for my family to hop in with Santa during our sessions.  It seems like I usually don't have time to talk or show much of these photos because Santa intersects with the busiest time of year for me, so they sorta get back burnered until literally 2 days before Christmas when I rush and do something with them for my family.  These sessions have been such a fun source of laughter and memories for us.  Well, I should say fun memories for my family, STRESS memories for me! ha!  But looking back today and pulling these shots, I was almost in tears laughing at the nonsense that is my families time with Santa.  My parents and Joe's dad always use it as an opportunity to get a shot for their card as well....Mom takes it upon herself to do something fun/surprising for Santa.  I usually don't know what it is until they show up with the kids in tow...this makes for a lot of FUN, but depending on what it is, it makes for a whole lot of chaos, too!  Here are some funny outtakes from our Santa Sessions.  I have to say, the crying ones melt my heart almost more than the smile ones!  Merry Christmas Season from The Hartsell's!
Year One, Sharpe having none of Santa. He is one here because his birthday is at Christmas.  We did manage to get a cute family pic but it was all we could do to get him distracted enough to take this photo.
Tortured by Santa.  Hated every second....Joe and I stand there and laugh. We are super great parents.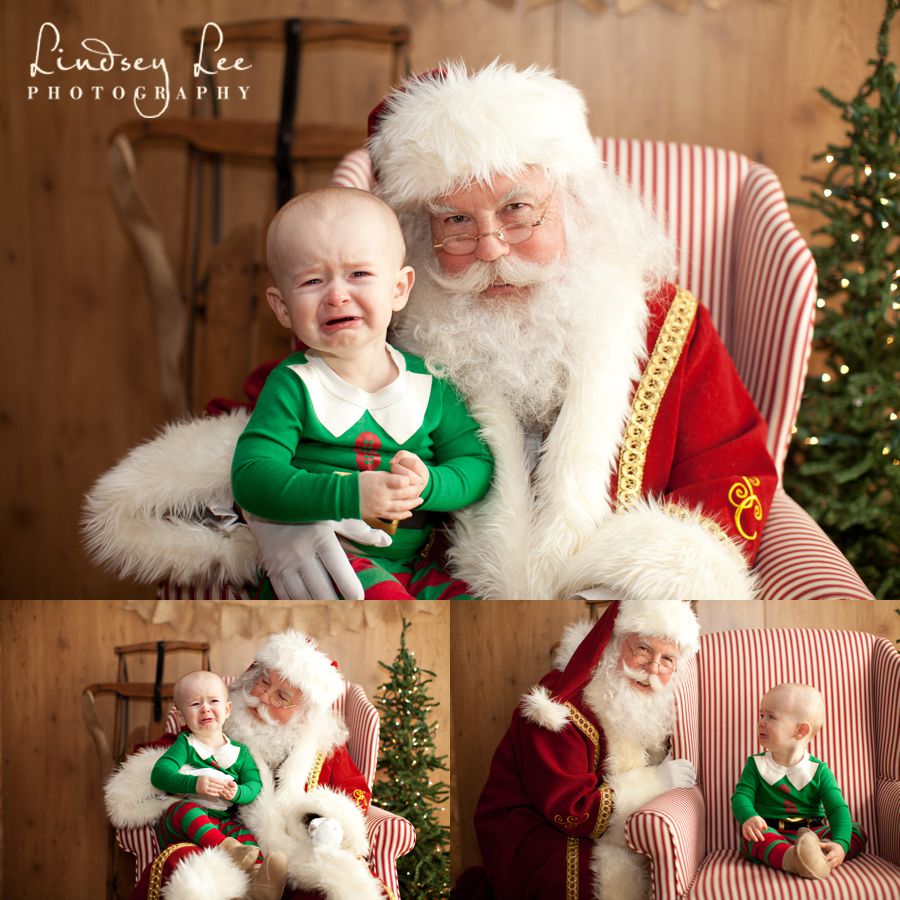 Year Two.  Sharpe almost 2 years old. Still hates Santa.  This year mom thought it would be fun to 1) dress Darby up like Mrs. Clause.  And 2) bring elf suits for everyone...which stressed out me, Santa, and Darby...haha, but it was the funniest thing ever!!!  Both mom and dad and Joe's dad used this as their card that year.  I can't tell you how many people are still talking about it! I was I think  34 weeks pregnant, so you know, this was real fun for me...swollen feet, face, everything!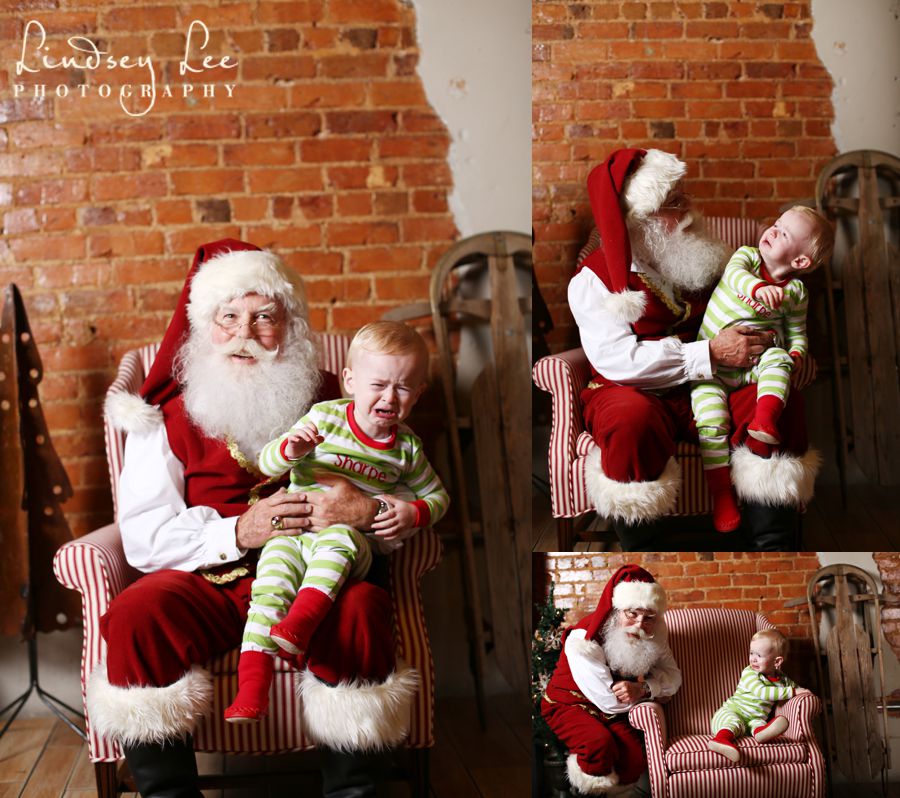 Darby hated Santa....we really wanted a Mr. and Mrs. Claus pic, but this was the best we got, haha!  Darby, the world's best and sweetest bear and look what we put her through!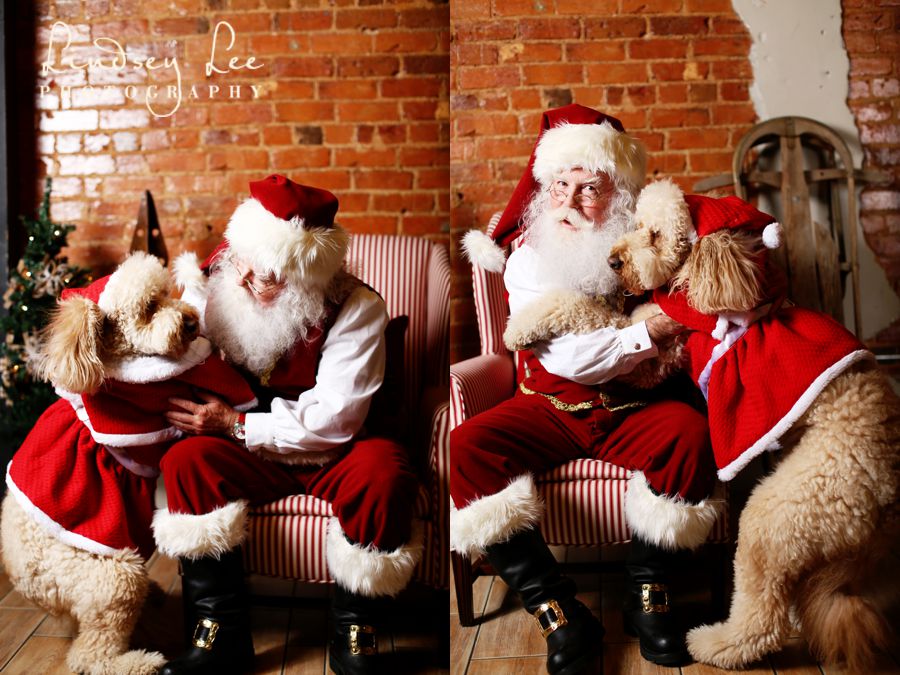 Rough family pic, but we tried.  I do sorta wish you could see my HUGE belly here...Shepherd was on the way! I had him 5 weeks later.  Managed to get Darby to sit near santa for picture.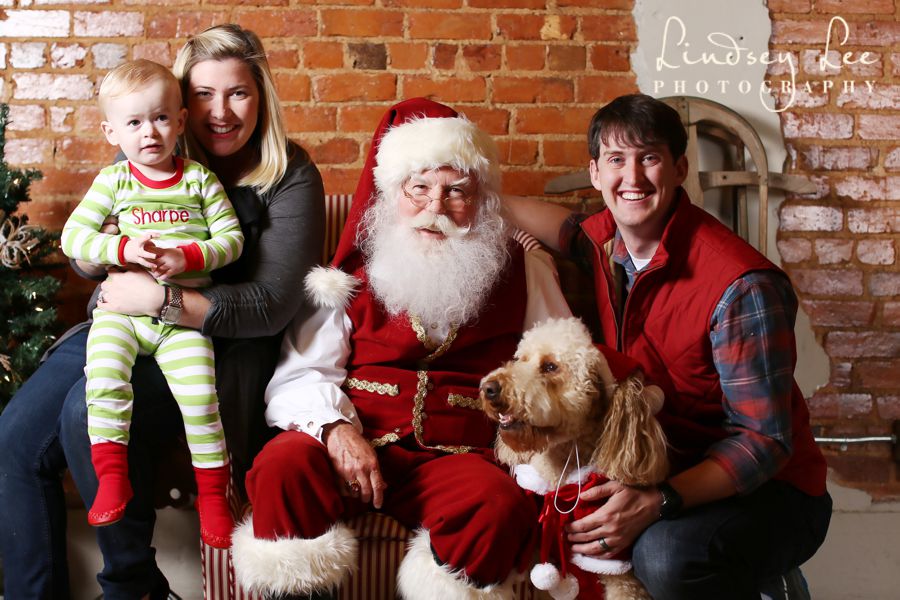 Here come the elves...these are the outtakes.  I'm dying at my dad and that big fake ear.  I am pretty sure Santa thinks we are nuts.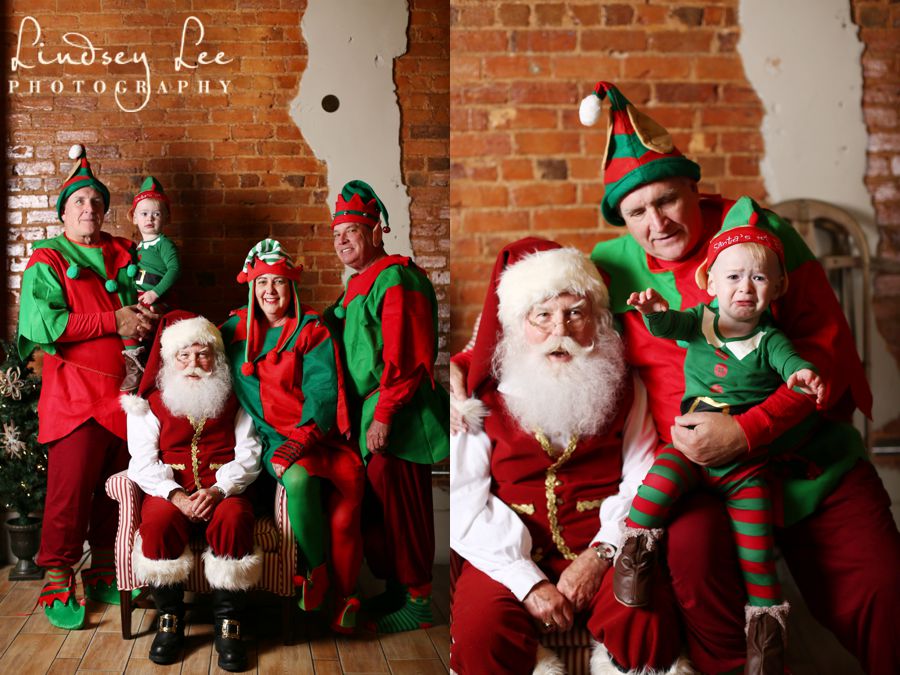 Mom's card that year:) You can see why all of their friends think they are crazy....grandkids will do that to ya:)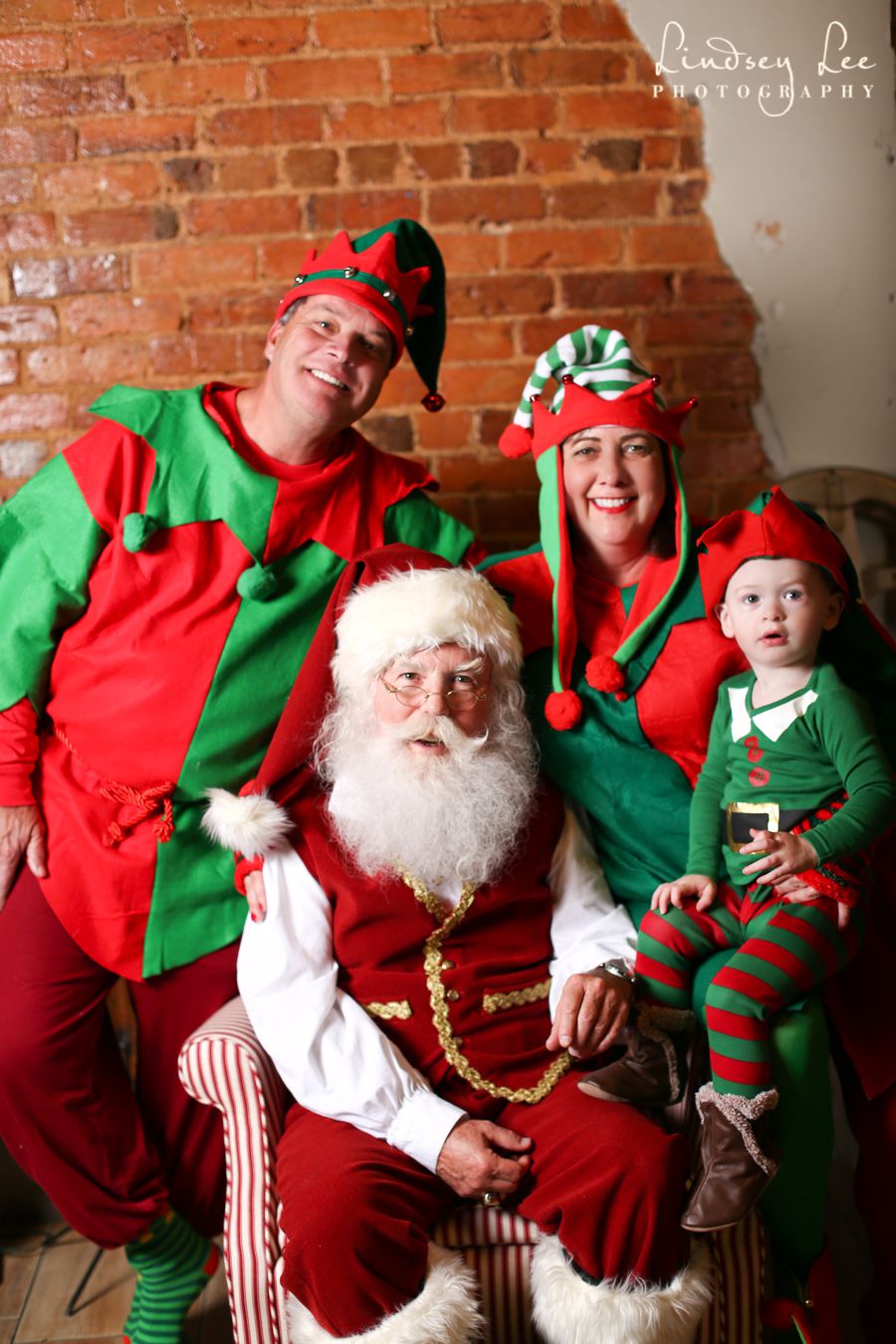 Year three and Shepherd's first Santa pic!  What a sweet boy.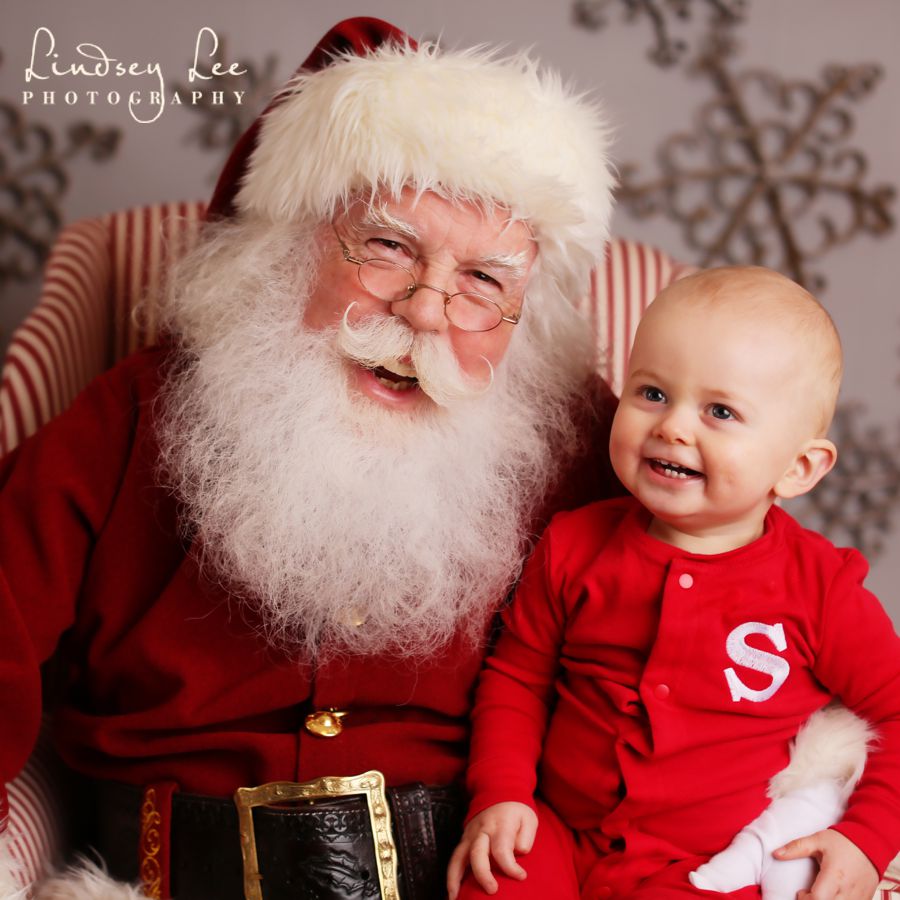 Oh look!  Sharpe decides he likes Santa!  Only took 3 years!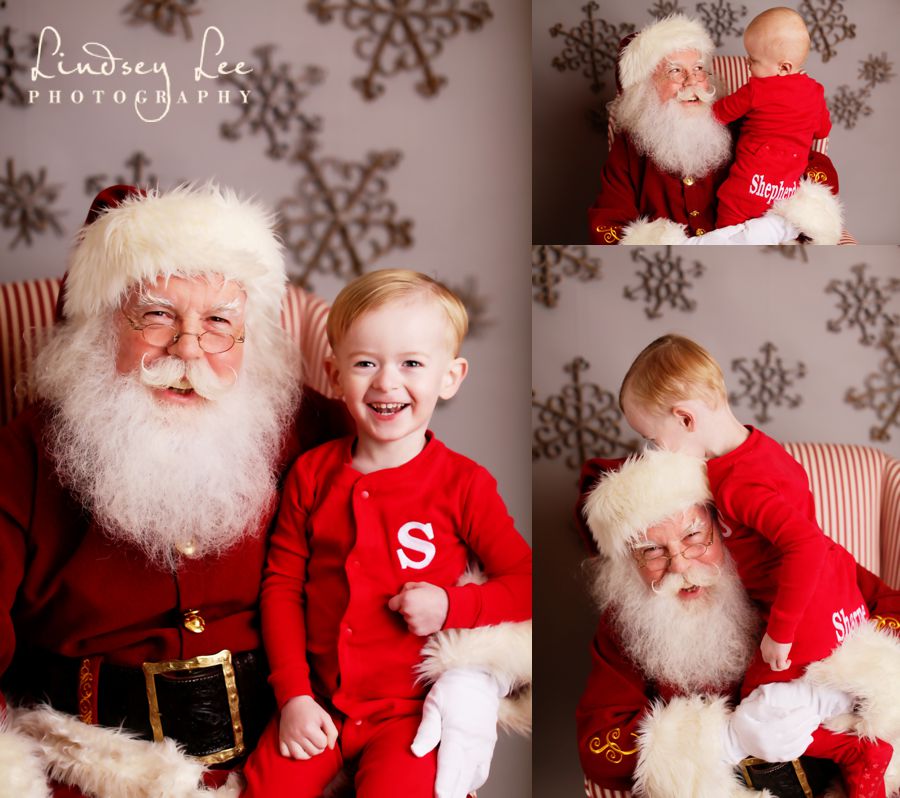 Mimi decided everyone needed footed pajama onesies with their names on the butt!  If only I could post a full length of these two grown people in footed pajama onesies, too funny!  My dad has no butt and chicken legs, so we were dying at him in these pajamas.  He was embarrassed, but mom can be pretty persuading.  Maybe I can convince them to put them back on for gift opening this year:)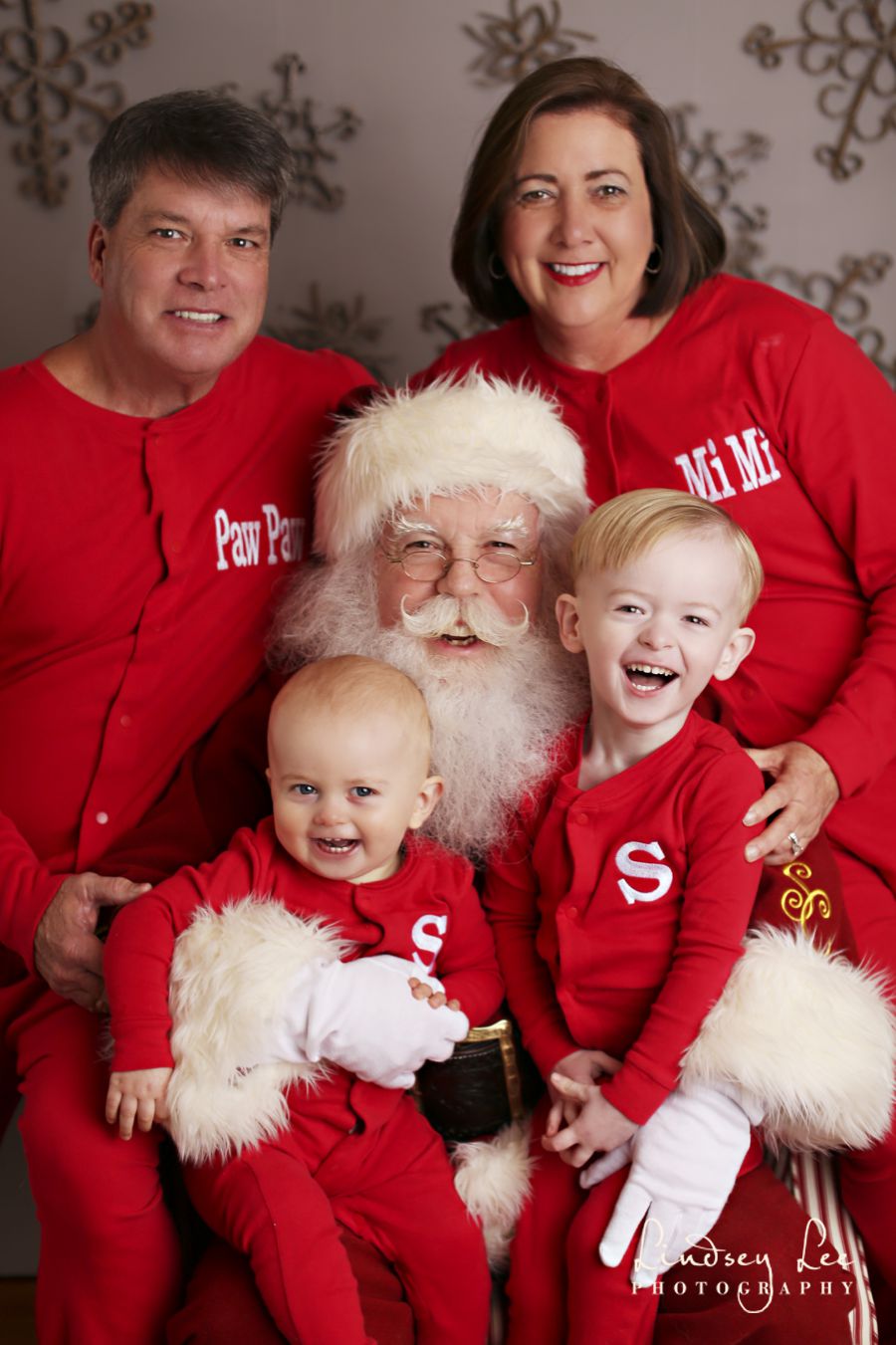 Pop's Christmas Card.  Look at those sweet babies! And Shepherd....gosh, I could just eat him up!
Thanks f0r taking this trip down memory lane with me.  I so look forward to all of the families that will be in front of my camera this Sunday and Monday.  If you want to know about Santa in the future, be sure to sign up for my newsletter via my fb page(click here).   30 of our 40 spots filled up before I ever started announcing the times and dates publicly, so you will want to make sure to get on this list to get a prime slot for next year!