Hello world wide web!  I'm back- well, sort of!  Our little man is 2 weeks old today and boy has the time flown by!
Shepherd Wesley Hartsell was born on January 28th and was 9 lbs 3 ounces and 22.5 inches long!
I thought there was no way in the world he would be bigger than Sharpe when he was born, especially because Shepherd was born 2 weeks earlier, but goodness he came out such a big and perfect boy!    He is such a sweet and good natured baby.  We are well over here and simply adjusting to life with 2.  People weren't lying when they said it was hard work, but we are managing pretty well and figuring it all out:)  Sharpe is a great big brother, but honestly, could care less.  He is starting to come around and take more interest in "Baby Shepherd", but for the most part his 2 year old self is a little unphased.  It probably has something to do with the undivided attention he is getting from all of his grandparents right now;)  I'm lucky to have their help, but one little boy is getting more and more spoiled by the second!
After getting 4.5 hours of sleep in a row(apparently there was a feeding in there somewhere, but in my exhaustion I slept right through it.  Super dad Joe to the rescue), I feel a little less like The Walking Dead and a little more normal and out of my newborn fog....kinda.  Go 4.5 hours of sleep!  We did take some newborn pics which I will post soon, but in the meantime I wanted to post Shepherd's nursery.  A huge thanks to my dear, dear friend Meredith Beregovski with Georgia Street Design for consulting with me on the nursery details, talking me off ledges when I couldn't find anything I liked and thought the nursery would totally stink, approving my purchases when I did find stuff I liked, helping me find the most perfect fabric and designing the curtains, pillows and crib skirt, and for in general just being one of the greatest friends a girl could ask for.  Ya'll, get on her schedule ASAP.  Some of her work is soon going to be on a HGTV show that begins filming in the next few weeks!  Her work is the real deal and I am so proud of her!
Hope you like it as much as we do!  The little guy is still sleeping in our room, but I know he is going to love it in here when he finally does sleep in his own bed.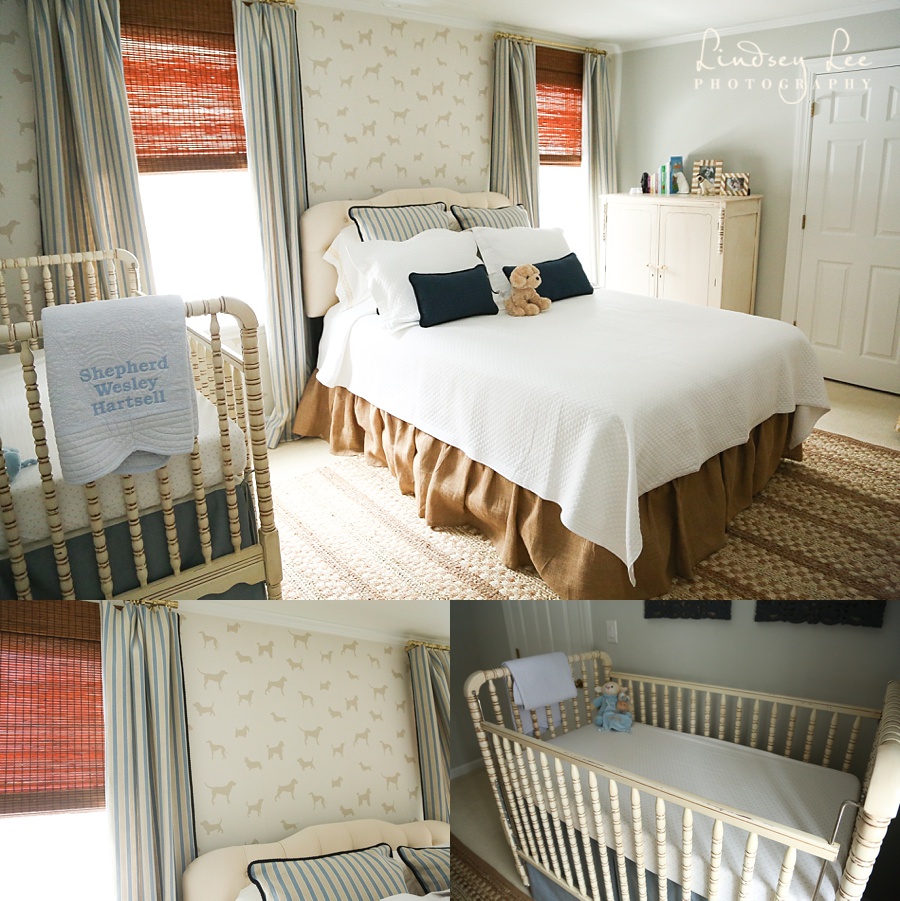 I knew I wanted a "dog" theme, but pretty much everything I could find was totally kiddie or cartoony- which is definitely not my decorating style.  If it's possible, I reached the end of Etsy.  To no avail.   After I found the Dog wallpaper, it really all started to come together!  All of the furniture was from Sharpe's Nursery.  He got big boy beds so his nursery furniture was moved into the baby's room.   I knew the queen bed had to stay(after debating and debating and debating some more), so after making Joe move the queen bed to literally every wall in the room so I could see how it looked, we finally landed it back to it's original starting point- in between the windows(I'm telling you, I married a saint!). Oh, and Meredith said it would look fine there the whole time, haha...I'm SUPER fun to work with;)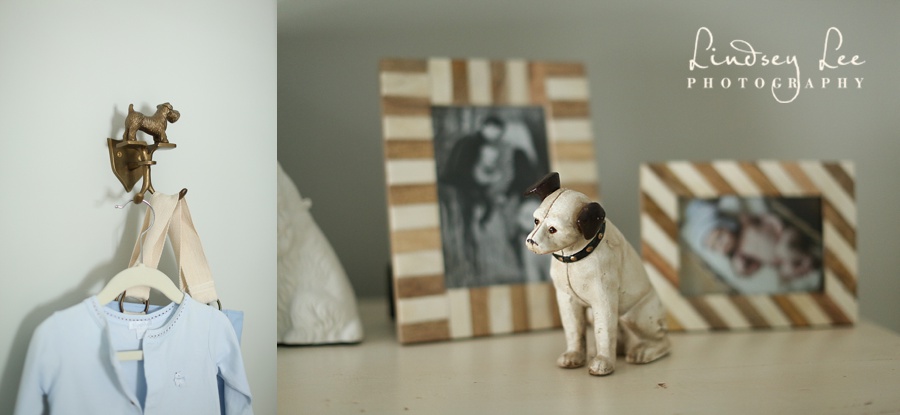 New hardware for the cabinet from Anthropologie, and these cute little scottie dog hooks, too!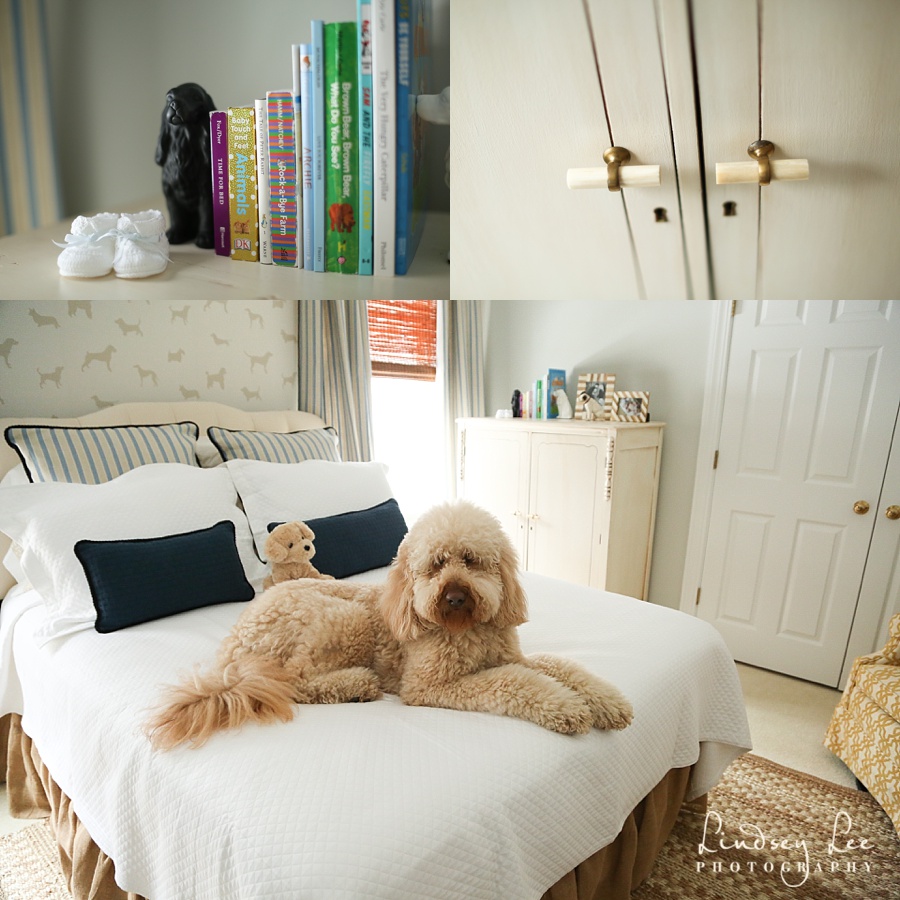 Joe and I found the rug at Tuesday Morning up in Asheville just by chance one day.  Love Tuesday Morning! Wish I lived closer to one...although that might be a bad thing.  The mirrors we already had, they hung over the bed when it was a guest room, we just painted them navy per Meredith;).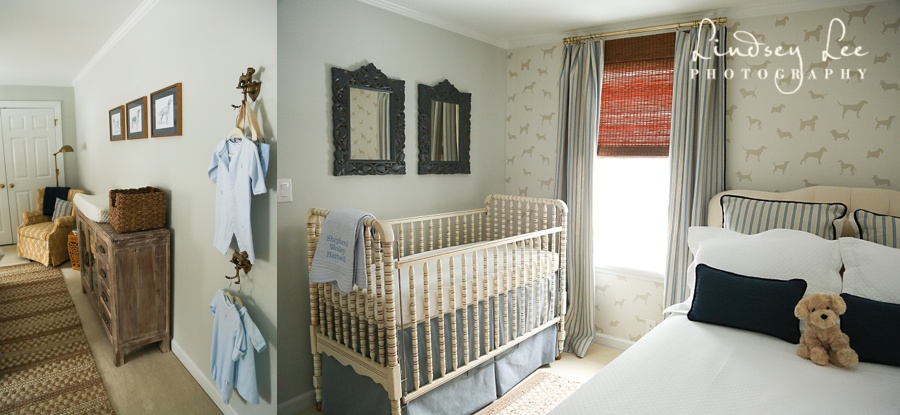 I love the fabric, curtain rods, pillows and crib skirt so much!  Meredith is the goddess of fabric.  As a fabric snob myself, I don't say this lightly, either!  She just has a way with seeing how everything is going to look.  She sourced these curtain rods, too!  I adore them!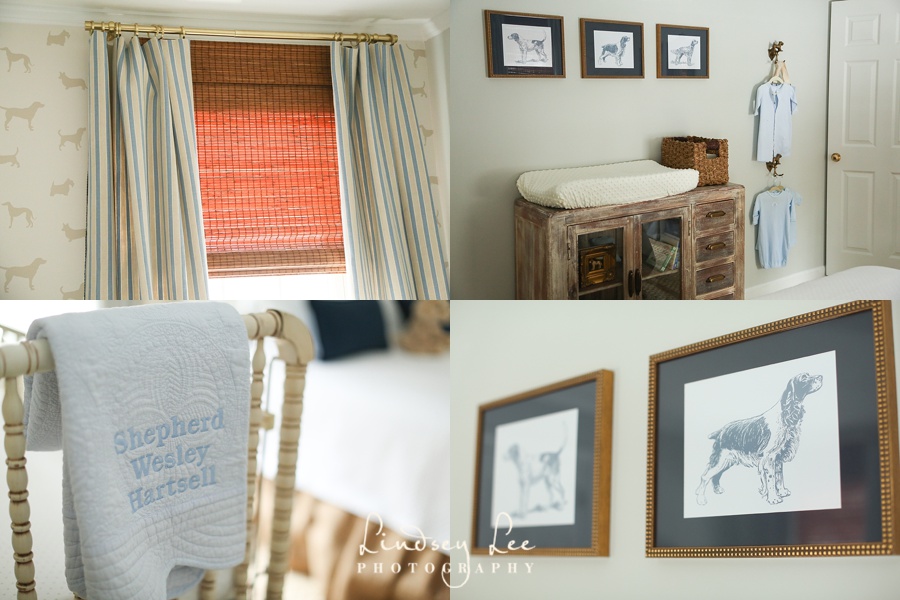 Joe really wanted there to be some "hunting dogs" in the room.  After reaching the end of the internet for the 5th time, I was able to find some vector images of dogs for sale which I was able to turn blue and print as photos.  So proud of this little project! Oh, and Lindsey Lee Photography sells these frames in all sizes if you are interested!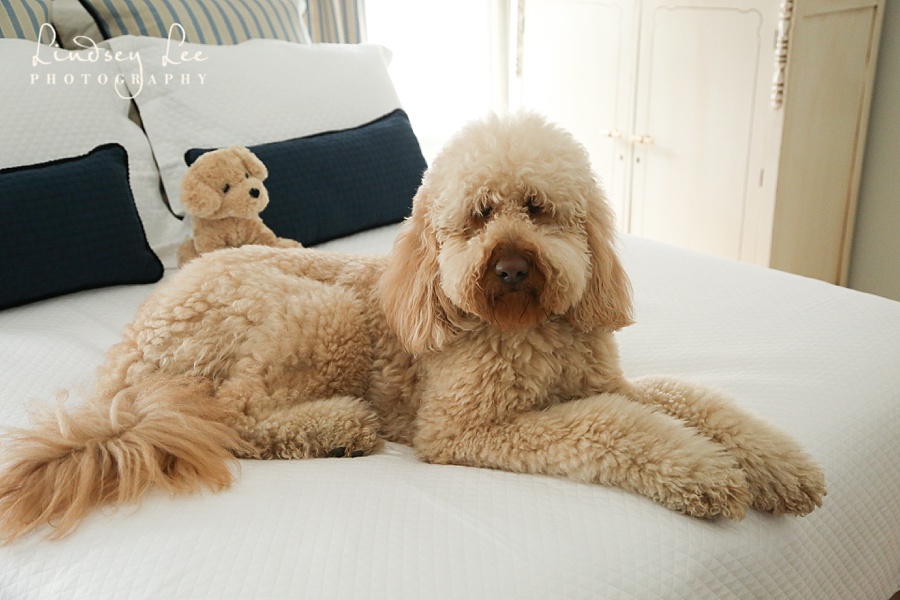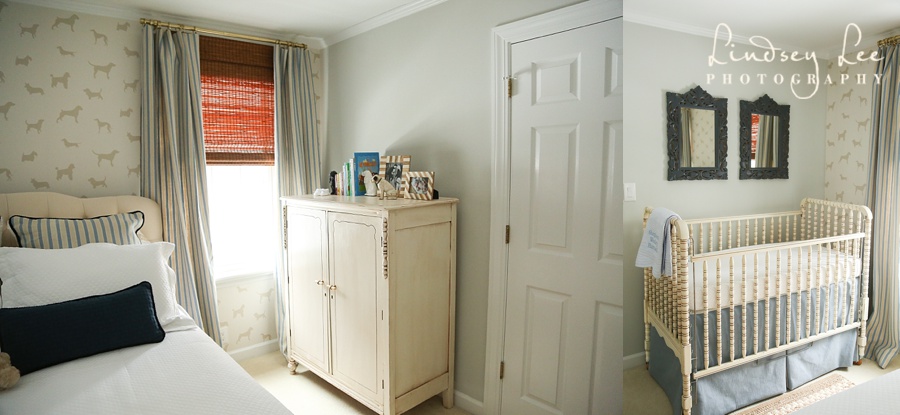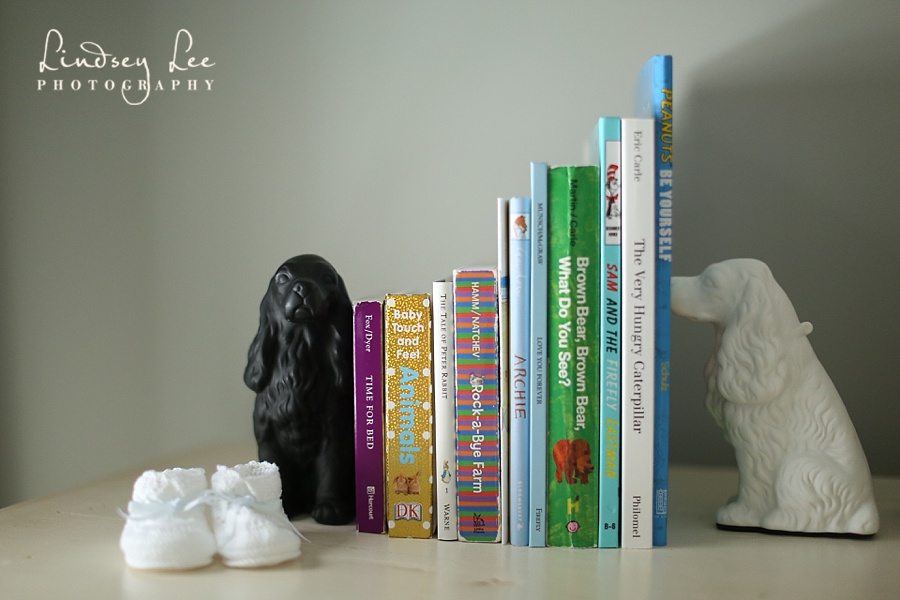 The headboard was the same as we used the guest room.  Just tried to find a way to masculine it up a bit.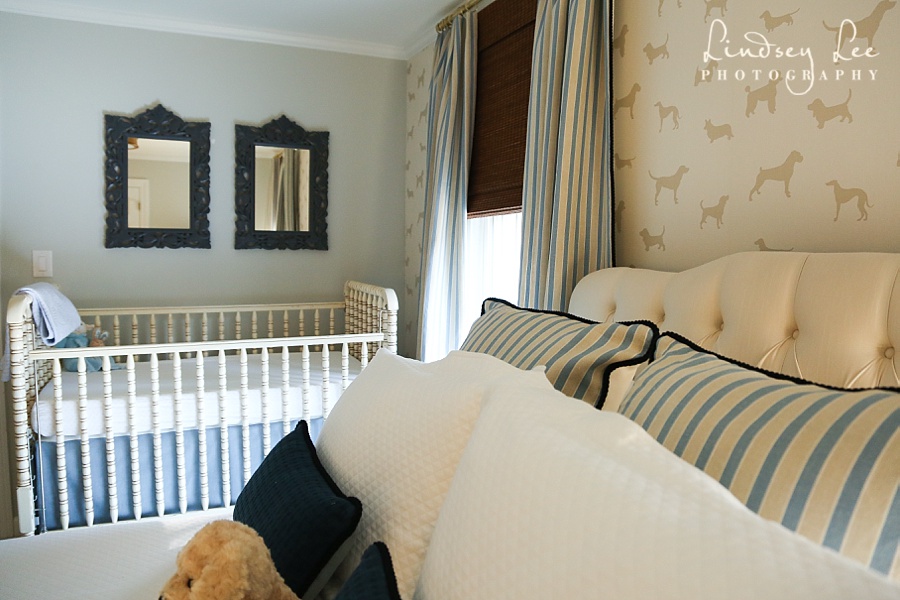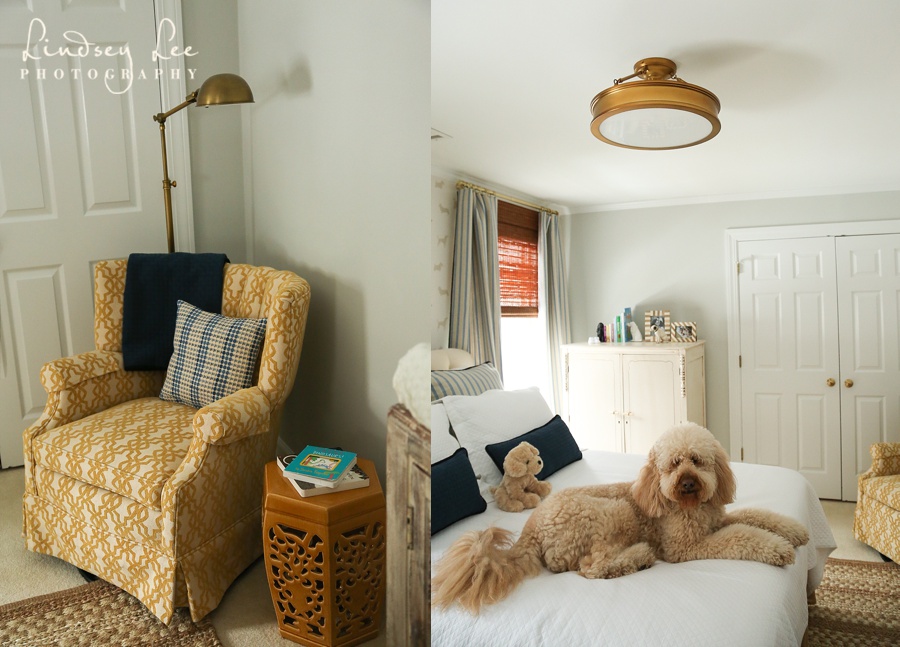 Hope you enjoyed the tour of his room!  I am taking some time off this month and next to be with our sweet Shepherd and Sharpe, but am looking forward to getting some amazing things up on the blog, too.  Be sure to check back.  Oh, and happy snow days ahead (fingers crossed!).